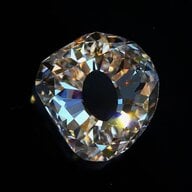 Joined

Oct 21, 2004
Messages

5,096
I would love to hear opinions on DeBeers new "generic" marketing slogan for these days of economic turmoil (and perhaps beyond)...
I say *generic* simply because DeBeers noticed an advantage for advertising Diamond/jewelry in the US for the
global
Diamond industry vs. a disadvantage for their own DeBeers brands.
http://www.debeersgroup.com/Media-centre/Press-releases/2008/Luxury-Considered/
"
Global economic slowdown gives rise to new discerning luxury consumers, say leading industry experts.

Buyers leaving "fast luxury" behind for fewer, better things.
"Luxury: Considered", a global report launched today by De Beers Group, highlights a marked shift from conspicuous to discerning consumption in luxury as the global economic climate worsens and consumer fatigue with mass marketed luxury products escalates
....
....
Stephen Lussier, Executive Director of De Beers Group, said: "In uncertain times, we see signs that luxury consumers typically gravitate toward quality, toward fewer but better things that represent genuine value, and deliver on a promise that endures over a lifetime.
"This dynamic shift will have a lasting impact on the way luxury companies do business. This is particularly relevant to De Beers Group because we believe diamonds occupy a unique role in this new reality.
"The value of diamonds endures - they are crafted with skills acquired over generations, are savoured over a lifetime and can be worn and enjoyed season after season
."