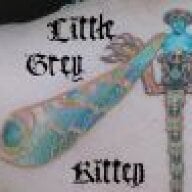 Joined

Nov 27, 2007
Messages

2,975
I know the question of: "What does yellow gold do to low color diamonds?" comes up pretty frequently. So anyway, if you wade through this longish post here, I have an observation on that subject

based on an interesting experience I had today.
I had previously looked at this poor, pretty OEC buried in a ghastly monstrosity of a 1960s yellow gold massive setting at work, and just left it for awhile because it was so dang yellow- buttery, bright obvious in your face sunshiny yellow. Probably not fancy, but I'd have bet money on W/X or Y/Z, possibly even FLY. Yellow gold prongs, yellow gold all around it. Great cut- very lively, would do fine in a bezel. Currently buried in yellow gold actually. I put it next to my EGL N OEC and it was far, far yellower. Tried this in a couple of lighting scenarios, same result.
I finally got around to weighing the setting, and I decided that the cut was amazing enough I was going to buy it despite the buttery yellow color, which I didn't love, but it's a .60-.70, perfectly cut later OEC and the setting was heavy enough to give good scrap value. So, I was like... I cave, I'll "rescue" it, it was like $750 and the setting will scrap for around $400. So, I'll keep it and eventually do *something* with the stone, because I know the dealer who owns it will eventually scrap it herself- possibly including the center diamond- if it doesn't sell soon.
So I adopted it
(yes it's a sickness!) and took it home. I decided the prongs were thin enough I'd pop it out myself easy enough, and yep, it came right out.
OMG. It's somewhere between M and N! It's no WAY lower colored than that. And in the old setting, it looked absolutely, positively totally YELLOW. Not off white, not antique white but buttery yellow. Now? It's just plain ol' off white! I simply can't believe the difference. I would've bought it 6 months ago if I had *any* idea what the real color was! I had always kind of thought YG did make lower colors look yellower but I had no freaking CLUE what a giant difference unsetting it made.
Anyway. I have no clue what to do with it, but it will join the .55 ct J/VS OEC in my jewelry box, and the .55 ct J/I1. Someday they'll be something, I swear!