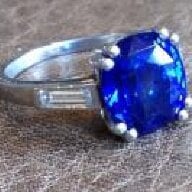 Joined

May 15, 2013
Messages

10,535
Most PSers are very cost savvy. They find the
most amazing stones for reasonable prices
and even manage to set them in a low cost
setting that would stand out in a positive way
in luxurious jewelry stores.

But have you ever set your relatively low cost
stones in relatively luxurious settings. The
cost of the setting being higher compared to
the costs of the stone?

Please show them here!