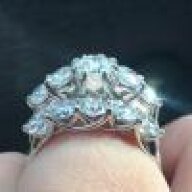 Joined

Apr 10, 2015
Messages

26
Hi guys!
I'm so excited! I picked up my wedding band this week

Here are some pictures. My apologies for the photo quality! These pictures unfortunately don't do the set justice. I'll have to try to take pictures outside some other day to really showcase it.
I know some of you you might find it too much sparkle but I do like my bling! I also love that both rings are statements in themselves and don't have to be worn together. I have big fingers (size 8.25 to 8.5), so dainty little things don't look particularly nice on me.
I've seen lots of blingy engagement rings paired with simpler/more subdued wedding bands (which are equally beautiful in their own way) on here and thought I'd show something different. Believe it or not, I had thought of going with 2 wedding bands, (5x0.25 each) but in the end decided against it because I didn't want to completely hide the engagement ring's setting.
E-ring : 0.25, 0.35, 1.0, 0.36, 0.25
W-band : 0.35 x 5
Ring size : 8.25 (or 8.5)