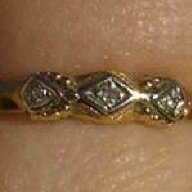 Joined

Feb 4, 2007
Messages

27
Lurker, coming out of hiding

.
About 5 years ago, I lost my wedding ring, and we''ll soon be able to replace it. This is subjective, but I''m not sure what to get, and I''d like opinions. I''ll condense the story...
My ring was .34 carat RB, don''t recall the stats, but it was positively blinding! I hadn''t heard of fluorescence then, but it had a pretty blue glow in the sunlight. It was in a WG 4 prong tiffany setting, with a 2mm plain band on either side.
Before we shopped, my husband went to a highly reccomended store, met Mr. (name of store), the owner, and told him his budget (so I wouldn''t try on something totally unreasonable and fall in love with it, LOL). I''d had my heart set on a fancy shape, but when we went in, all I was shown were rounds. Now let me tell you, I LOOOOVED the ring I got! But I''ve since found out we were fibbed to when we were told fancy shapes were out of our budget... which irks me to this day.
me: "Could I see an emerald cut?"
owner: "Just look at this beautiful round (name of store) diamond!"
me: "Um, how about a princess?"
owner: How about this beautiful round (name of store) diamond right here!"
After looking elsewhere, the first place clearly had the best quality stones, so we made our purchase there. Now, as I said, I was totally in love with that ring... but now, I''ve been looking, and I''ve discovered a whole new shapes & settings I never dreamed of, and our budget is a bigger now. I think for sentimental reasons, I should go with a bigger RB, same setting, so it will feel like more of an upgrade than a replacement... but then again, now that we know more and I''ve seen more variety, I''d love to get the fancy shape I wanted in a totally different setting. DH''s reaction to pictures I''ve shown him range from, "Yep. It''s nice" to "Hmm. Lotta diamonds on that one." He''s told me that I can get what I want, that I''m the one wearing it, not him... but I don''t want to get a ring he''ll cringe at every time he sees. Also, while I LOVE drooling over the many pictures I''ve seen here, I''m not really the gobs of jewelry type, so this will most likely be one of very few pieces of fine jewelry I''ll own. If you''re still reading my ramblings, and have an opinion, please share it! Thanks for bearing with me.