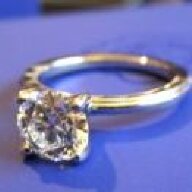 Joined

Dec 1, 2010
Messages

64
Hi everyone! Sorry I've been kind of MIA for a while, but I have a question about my diamond setting.
I got engaged in April, and pretty much since then (I think), my diamond has been a bit loose in its setting. If I shake it near my ear I can hear it clanking a little bit. I can also turn the diamond back and forth a bit (to a point, I can't turn it more than a couple degrees before a prong keeps it from moving any more).
I guess my question is, is this normal? I got it from
GOG
and I know they are VERY good at what they do and I'm VERY happy with mu experience, so the reason I've kind of tried to ignore it is because I figure maybe the diamond isn't supposed to be held in so tight that it doesn't have room to breathe. But, on the flip side, I've found myself getting more and more paranoid that it's going to fall out.
Thoughts?