Joined

Jun 21, 2013
Messages

26
This is my first time posting a question instead of just sharing bling, so forgive me if I post in the wrong spot.
My baby sister's engagement is impending- I think he'll approach me for help very soon with a goal of proposing in August or September (a big move is happening then for them).
B (my sister) has very particular taste that tends toward expensive.
She's found a mounting she loves, but it will require modification. I'm considering whether going custom from the outset isn't the best bet for quality and price. Where should we go to begin looking at that?
For reference, the mounting she loves is this one (and I'd say excuse the notes, but those are the modifications she wants so it is relevant!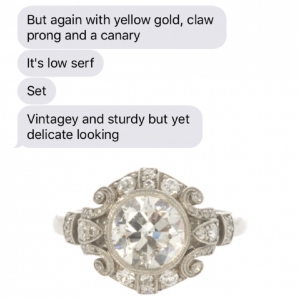 Any guidance would be appreciated!