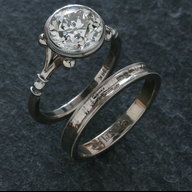 Joined

Nov 20, 2008
Messages

156
I have two old wedding sets, inherited from my great aunts. None of the rings are in a style I would wear so I want to do something with the stones.
Set one has a pretty round oec (I think) maybe about .65 - .70ct. It had been reset in to a horrible swirly type solitaire setting back in the 70''s. The wedding band is original from the 30''s and has two rows of five RB about .12 - .15ct that look pretty nice, although two of them have quite an obvious large culet.
The second set also has a round oec of similar size, however it has a pretty good size chip in the girdle as well as another layered type fracture on the crown. Because I know this is the original setting (fishtail I think it is called), and knowing my uncle the bargain hunter

I suspect it was originally purchased with this fracture back in the 30''s. Between this fracture and girdle chip, I don''t think much can be done with this stone without some serious recutting. The wedding band has two rows of seven single cut stones, maybe .07 - .10ct. At least two of these 14 single cut stones also have open culets.
My thought is to have the 10 diamonds set into a 1/2 eternity with the large culet stones at the ends, not front and center where they would be obvious. Looking for ideas for the .65 oec along with the 14 small single cuts, maybe a pendant, or another type of ring? Might even consider recutting the chipped stone to work it in. Would definitely consider a vintage style setting. Just don''t know where/how to appropriately use single cut diamonds.
Anyone with any thoughts, suggestions, photos??
Here is what I am working with...