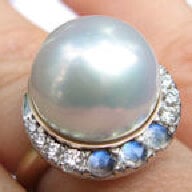 Joined

Jan 9, 2007
Messages

7,312
Hi - I''m replacing my lost 1.5 ct diamond ring - platinum, a fairly low set semi-bezel design with 5 channel set 0.04 ct stones on each side. (Insurance check has now arrived!
) I had picked that design because I thought it would be more wearable (like under winter gloves, when reaching into tight spaces like pockets or purse, etc.) than higher set prong styles. Still, I ended up wearing just my plain narrow metal wedding band a lot more than I expected when doing things like exercise class, gardening, and chores around the house.
Maybe I am expecting too much to be able to wear a fancy diamond ring all day, every day. I thought I would ask all of you when you do and when you don''t wear your beautiful rings. Have you found situations where you had to remove them that you didn''t expect? I''m getting another chance to design my dream ring, and I''d like to improve on it, if at all possible. I figure narrow, light, close to the hand styles are probably best, but maybe there''s more to it.
As far as I am concerned, the more I can wear my gorgeous new diamond ring-to-be, the better!
Thanks. And, all you of Pricescopers are great!