Joined

Dec 22, 2015
Messages

1
Hello,
I've been scouring the internet and some jewelry stores for awhile now and have now gone through most of this site in addition to others in the search for the right engagement ring. Unfortunately after all that we have a very clear idea of what we want but it is not something that we have seen for sale anywhere. We have found a diamond that we're pretty sure is a great fit, but finding the setting is proving challenging. Here's a quick rundown of where we are:
Looking for a rose gold solitaire set for a radiant (cut corner square modified brilliant) diamond
14K Rose gold band, but white gold/platinum prongs
I really like this setting:
http://www.adiamor.com/media/rings/medium/Round/rose/r-1067.jpg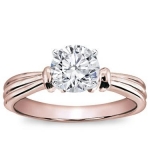 It has more interest than a plain band, with the ridges
and I find the tapering very appealing (with the beads at the end, too)
We would like to set a square brilliant diamond, just under 1 carat in this at a 45 degree angle like so:
http://katannutadiamonds.co.za/images_system/jewelry/Rotated_princess_cut_Kayley.jpg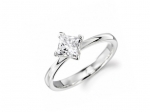 We've read that this 45 degree setting can be called 'kite' or 'star' or 'on point' maybe other things
So, we'd take the setting above, rotate it 45 and ideally keep it set low in profile - close to the hand (not sticking up too far)
The gem we've found is from one site, the setting is from another and we have contacts at a local jewelry store that does custom work.
What is the simplest/most cost effective way to accomplish this mash-up logistically? The loose diamond is from
James Allen
and maybe they can do a custom setting that fits these desires but none of the settings on their site are anywhere close. The setting that we like but would want rotated 45 degrees and set low profile is from
Adiamor
.
We ideally do not want to spend more than ~$500 on the setting at this point which really limits the options. Maybe it's not even possible, but it is really hard to find any information or settings that have the diamond set in a "diamond shape" if you will. I've never bought jewelry before and want to know what to expect and what is possible before putting inquiries in to jewelers and ending up on more email/phone lists and setting up expectations with salespeople. Thanks