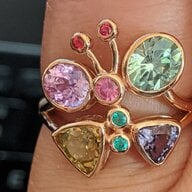 Joined

May 13, 2018
Messages

4,355
Hi Voce,

I suppose pricing will depend on the vendor and the market you're in. I have seen 30-35% discount to unheated for low heat only (no flux, no fillers), you may know otherwise.

On color I said 4 because while it probably is a 3.5 in terms of spectral purity (but who knows without equipment), the overall appeal is affected by the inclusions and I think AGL factors that in to some extent in the color grade. I might be wrong though.
Regardless, 4 is a very good score so I didn't mean to diminish its beauty.
In cases where I've seen 30-35% discount only, I've just considered that overpriced. Even without taking color and quality into consideration, there's many times more heat only Burmese rubies available.