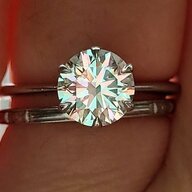 Joined

Feb 25, 2015
Messages

179
HI ALL!!
I'm hoping you ladies might be able to steer me in the right direction reguarding this ring i have.
I bought it when i was looking for a cheap eternity band to go with my updated diamond. I got it on ebay for next to nothing. The good news: its gorgeous, well made, and exactly what i was looking for!
Bad news: even though it was sold to me a a aize 6 (i am a size 5.75) its HUGE on me. My jeweler says this is because of the rope design on the interior (see pics) causes it to fit differently. I mean, its so huge on me it actually tilts on my finger and i can shake it off (again, see pics). I initially just thought "i'll just sell it, i dont want to wreck such a pretty ring by sizing it and messing up the interior." So i tried to sell it, and i was being honest about the fit...and no one wants it! So now i am back to square one, and thinking i should size it and keep it (i do love the ring!). So now my question: does anyone know of a jeweler who could size this,
a. to fit properly, even though a mandrel says its pretty much my size now (its not)
b. And not mess up the interior rope design too much?
Thanks in advance!