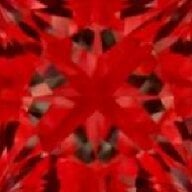 Joined

Jan 2, 2008
Messages

1,246
I need your help again.....
I am looking for a pair of oval diamonds around 4-5mm long for a budget project. I have set myself $1000 to find some but obviously the cheaper the better. I know I'm only going to get lower specs for that but thats fine by me.
I've searching all the usual suspects but they don't seem to have much. The main problem is finding stones that are small enough with lower specs!
What do you think of these pairs:
SET A- $1200
1) 0.32 ct.
E+/VVS
Good cut, polish, symmetry
5.30x4.00x2.40mm
Depth %: 60
Table %: 62
2) 0.33 ct.
E/VVS
Good cut, polish, symmetry
5.36x4.01x2.35mm
Depth %: 58.6
Table %: 64
SET B- $1400
1) 0.31ct
Very Good cut, polish and symmetry
E/VVS2
5.22 x 3.82 x 2.18 mm
Depth %: 57.0
Table %: 64
Girdle: Medium to Very Thick
Culet: None
Fluorescence: None
Length/width ratio: 1.37
2) 0.31ct
Very Good cut, polish, good symmetry
F/IF
5.29 x 3.85 x 2.31 mm
Depth %: 60.0%
Table %: 63%
Girdle: Medium to Very Thick
Culet: None
Fluorescence: None
Length/width ratio: 1.37