Hi everyone, I am new here and was hoping that I could draw upon the collective wisdom of forum members.
I have spent quite some time looking through the forums, and while I feel somewhat enlightened, I still feel as if I know absolutely nothing about gemstones.
I am looking for a stone for an engagement ring. Initially I was interested in an aquamarine ring, however after reading through PS it seems that it would not be appropriate for everyday wear. Hence the the new search for a Montana Sapphire.
I am set on trying to find a light blue, or lightish blue-green stone. And (sort of) set on finding a cushion cut stone around 6.5-7mm. (I am also not opposed to round cuts).
My inspiration for how it would be set is based on the tiffany legacy aquamarine ring
http://international.tiffany.com/jewelry/rings/tiffany-legacy-aquamarine-ring-GRP07552
One of the major barriers I am running into is that I live in New Zealand and therefore any purchase I would make would be online, without seeing the stone in person. So I want to be close to certain that I will be happy with the stone before purchase.
I have looked at a bunch of sites. Gemfix has a lot of Montana Sapphires, but seeing as they won't send extra photos, they are out.
I liked the colour of this one:
http://www.thenaturalsapphirecompany.com/p-54876-cushion-unique-sapphire-u5266/
They have sent me this photo of it: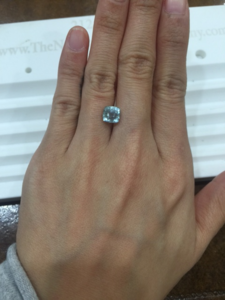 And I have asked for more photos in different lighting conditions + whether I could get an AGL report prior to purchase if I were to buy (waiting to hear back).
That stone would be at the top-end of my budget. Also its dimensions are 6.63L x 6.42W x 5.86H. To me that seems quite deep giving it a high carat weight for the face area (if that is a correct way of describing it). Is there any benefit to having it cut so deep or does it just mean I pay more for it to look similar in size to a smaller carat stone?
Also in general - what do people thing of this stone and its price?
I know that there have been concerns about TNSC and other members have had bad experiences previously, so that also is a little concerning...
Other stones that I like the look of are:
http://www.earthstreasury.com/product/1-85-carat-aqua-blue-montana-sapphire/
This one grows on me whenever I see it; despite it being a round cut.
http://www.earthstreasury.com/product/1-51-carat-medium-robins-egg-blue-montana-sapphire/
http://www.earthstreasury.com/product/2-02-carat-blue-green-montana-sapphire/
(probably out of my price range, and I would prefer it if it were a squarer cushion 6.6x6.6 rather than 7.8x6.6mm)
I also like the colour of the bluegreen montana sapphire in Jeff White's current available gems and have emailed him about what I am looking for.
http://www.whitesgems.com/availablegems.html
Thanks to anyone who read all of this.
Just some other information:
I would prefer a stone from US rather than Africa or Sri Lanka. I know that Australia have some blue-green sapphires - but from what I understand they tend to be darker; and I would prefer a lighter coloured stone.
My SO has no idea (I hope) that I am looking for engagement ring stones. Hence she has had no (direct) input into it being a coloured stone rather than the traditional diamond. But I do know that she would prefer me to pick something myself and I am very confident she would be happy with a coloured stone.