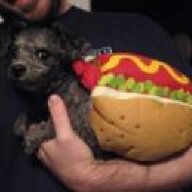 Joined

Jun 10, 2009
Messages

600
Before I joined PS, I drooled over a certain Leon creation. Green tourmaline emerald cut (or some variation of em cut) surrounded by a beautiful halo of pink sapphire baguettes. It was no surprise that it turned out to be a PS ring. I''m not going to post a pic of the ring out of respect to the owner (or perhaps past owner), but the ring convinced me that I would need to possess an emerald cut green tourmaline. Perhaps chrome, but I haven''t seen a chrome tourmaline in person.
What I want: Nice saturated emerald green color, emerald cut. 4-5 carat area, or something around 12x10 in general.
My problem: When I troll through my list of PS bookmarked vendors, I can''t seem to find any em-cut green tourmalines in the more substantial size I''d want. The only vendor I find who has them to choose from seems to be Paraiba International. BUT, I''ve read PS posts, asked a few of our favorite gemcutters, and there are two camps of about equal size. One side says the price is right, the other camp says they are overpriced. SO. Here''s what I''d like to accomplish with this thread:
ONE: Do you feel that the stone I''m attaching here is overpriced? It is 4.09 carats, 11.7 x 7.5 x 5.4. $920.
(It''s a little smaller than that "ideal price", but this cut looks most preferable before I run out of my budget. And honestly it would probably be enough for me once set.)
TWO: Since you guys are so good at directing others to the perfect stone, if you have seen something similar and cheaper, please direct me to it!
THREE: If there''s none available for immediate sale, please chip in if you know of any of our cutters with ideal rough right now. Even though I''ve purchased my first two stones in a custom manner, for some reason the results for this seem so much more iffy b/c of the dichroism issue. Not to mention I''ve been told the rough in larger sizes is harder to find.
SO, before I give in and just buy it b/c of reason #3 . . . let me know if I''d be paying way too much. Thanks guys!