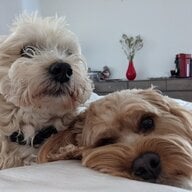 Joined

Jun 5, 2003
Messages

90
I''m looking for a stone for an e-ring, and want to find something just under 1.0c, but haven''t found a lot in the .90-.99c range in the quality I want (D, VS1 or above, and extemely well cut). Most of the stuff I''ve seen is either quite a bit smaller, or, of course, bigger (and more expensive).

Currently, I''m considering the following:

.907 D, VS1,
Diameter 6.29
Depth 60.9
Crown Angle 34.2
Pavil Angle 40.9
Cutlet .4
Table 55.5

1.00 D, VVS2
Diameter 6.44
Depth 61.2
Crown Angle 34.8
Pavil Angle 40.8
Cutlet .3
Table 57.2

The difference in price between the two is nearly $4000 though. Cut is certainly my highest priority, and I''m pretty determined to get a D color. After that, clarity takes precedence over size. What I''d really like is something in the middle, with a similar quality cut. I tried a PriceScope search by cut quality, but that turned up mainly stones that were larger and more expensive that the first stone I listed above.