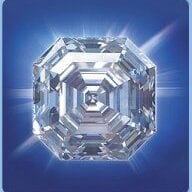 Joined

Jan 5, 2007
Messages

745
I would like to put together an ering that has three asschers, kind of like the ring attached (preferably with a trellis setting).
I noticed that there were alot of settings that you could buy that had diamonds such as princess cut ones, already in the setting. I have been unable to find a setting that included asschers, does this mean i will have to buy all three diamonds seperately? If so, what is the most important thing about sidestones?. I heard that it was important to have the color of sidestones match the color of the center stone.
I do not want to buy from
BlueNile
because they do not show the actual picture of the diamond but they are the only place i have seen picutures of the ring i love, that and ebay but I do not trust ebay at all.
Does anyone have, or looked into having, a ring like this? Anyone have pictures and/or information of good places to go to look for one of these? Is this a ring i will have to have designed for me? it does not seem like a staple on most company''s websites.