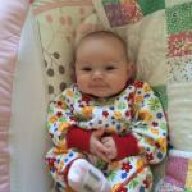 Joined

Jun 23, 2011
Messages

1,442
I know it wasn't the brightest idea to buy something other than the setting alone, but my DH wanted to surprise me with a ring for the wedding so he ordered one off of my "watch list" on ebay.
So here's the link...
http://cgi.ebay.com/ws/eBayISAPI.dll?ViewItem&item=250807068624&ssPageName=STRK:MEWAX:IT
Now I know it's cheap at $245.00, but wow. The setting is nearly paper thin compared to the photos, but I'm mostly disappointed in how the tourmaline looks. It doesn't look pink at ALL. In fact, it looks like muddy dark...I don't know what. It's mostly brown hues, with a glimpse of pink/purple if you hold it up to the sun or a light. It stays ugly in all types of lighting.
It's just poor quality all around and a pretty big disappointment for both of us.
We haven't gotten around to sending it back yet, since we just got back from the wedding, but will be shipping it out for a refund on Monday.
So a PSA (though I highly doubt it's needed, I'm probably the only one that is naive enough to have been stalking his gemstone rings). As a side note, are his settings better, or should I just avoid it completely? There is no way the shank on that ring would have held up.