Hi all! Loooong time lurker. For years have loved Leon's work and even had an ex boyfriend years ago visit with Leon for a
proposal that never ended up happening!
Anyway, I'm starting to look at rings for my current relationship and although I've always loved the idea of owning a Leon, I'm also loyal to my local jeweler. After I got a New watch from him, out of curiosity I asked to see his selection of e-rings.
The one he showed me had a beautiful setting with very delicate prongs. The pic is attached here-thoughts? It was a 2.2 carat E eye clean SI-1 I believe ideal cut. The setting plus diamond was about 25k which seemed great price. The setting has pave around half the band and little diamonds in the basket (is that called melee?). Anyway that is my HG ring except I'd like a solitaire with no pave, but diamonds in the melee; a double prong if I went to a master such as Leon.
Have never seen a Leon IRL by the way. Just wondering your opinions on how that might compare. Especially since a part of me would love to support a local jeweler. Thanks!!!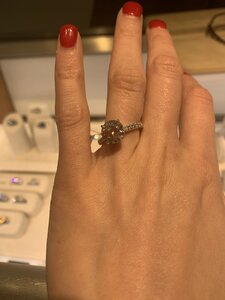 Last edited: