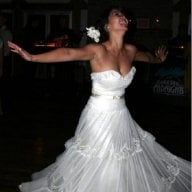 Joined

Aug 28, 2008
Messages

1,247
Ok...so I know this has been done before in the wonderful world of PS but I didn''t want to reopen an old thread since I think there are constantly new generations of LIWs. This can kind of be like a get-to-know-you quiz. You know, like the ones you got via mass e-mail every week in high school! I''ll try and keep the questions LIW-related and I know the questions have been answered in random threads but it would be neat to have all of the info in one place! Cut and paste the ?s then fill in your answers. Feel free to add questions along the way!
1) How did you find PS?

2) How did you meet your SO?

3) How long have you and your SO been dating?

4) In 10 words or less, describe your dream e-ring.

5) What is your favourite activity to do with your SO?

6) What is your ring finger size?

7) Do you and your SO have a song? If so, what is it?


What''s your favourite meal to make your SO (or vice versa)?

9) If you could pick ONE PSer''s ring to be ''inspired by,'' who would it be? (Tell us about the ring too!)

10) If you combined your name with your SO''s name, what would your ''team name'' be?