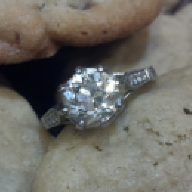 Joined

Sep 22, 2011
Messages

538
As some of you already know, I hit the 20# mark today (20.7) and bought my tiffany charm enhancer necklace! yay! I will be here november 16th apparently. Maybe I will have a ring by then? Probs not. Ive started to think THAT will never happen.

Other good news is that Im almost close to writing down my weight in this thread. Still disgusted by it but Im less horrified as the number goes down.

Hoping to be down 30 by the end of the year, maybe sooner. If it took me 3 months to do 20, it should take me about 1.5-2months to lose another 10. Ive started taking new vitamins that I think may be helping with energy so hopefully that kickstarts me a bit - I have NEVER had any energy (I think I have metabolism issues) so anything has to help.


KEEP UP THE GOOD WORK LADIES!!! Are you going to weigh in anytime soon audball or are you just nixing it for the rest of the year? ... the freakin holidays are gonna be so hard..