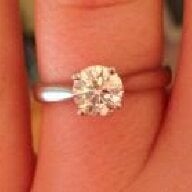 Joined

Dec 13, 2009
Messages

944
Way to go LJL! Delicious food and booze are almost always a part of my weekend too!
I didn't weigh this morning. It's been one very rough week for me and so, I haven't been eating very well. Over the weekend, I was already starting to get a terrible cold and then found out my debit card number had been stolen and someone had already racked up over $2000 in purchases!
Thank goodness, my money has all been returned to me by my bank. But, until that happened, I was a nervous wreck. I have eaten horrible foods and I had a Sprite. So, I'm just going to wait a week before I weigh in.
One good bit of news though, like I said before my mom has an elliptical at her house. She and I bought it together a few years back. We were both pretty good at using it regularly, but she has since moved it to the basement and no one ever uses it. So, she decided that I could take it when BF and I move into our house! I'm so excited because I know I will use it since I will have regular access to it.