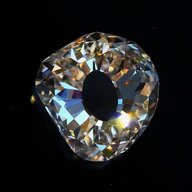 Joined

Oct 21, 2004
Messages

4,893
I left something out (It was a late night rant).
The natural diamond world has done a very poor job of putting out its message that artisinal miners of diamonds and the cutting industry fund wars, employ child and slave labor, rape an pillage the earth etc.

The focus on all the above issues by man made diamonds as being the Achilles heel of the mined diamond industry WILL PUSH the dinosaurs to clean up their act and communicate the good that the industry does.
I hope I am mistaken..., but you are giving the dinosaurs quite a lot of credit.
Until today, the dinosaurs still live in their pre-Historical environment, business wise off course.