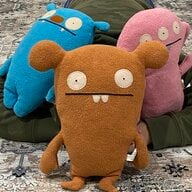 Joined

Oct 24, 2012
Messages

12,506
Hi Yssie, I just got it and love it more every minute. I didn't at first. Yes that is how I am going wear it, stacked with my tennis and Hermes cuff. So I gotta admit. Just reading your post made go to the VCA store, 7 blocks from my office! Dangerous. So since getting my little sweet, (and it's more green in the pic bc I took it under lamp light. Outside its more Easter egg blue.). I'm already craving a necklace. So I had to go try some on.
I thought I liked the lucky butterfly in mop but the size is actually a little big to my eye. I kinda love the size of the vintage clover in mop. Never thought I would be so traditional. Let me know what u think.
The little butterfly was my first choice until I wore it on my wrist. Gotta go bigger.
And they actually have a bracelet that fits me. The perlee which I actually am liking in rose gold comes in a very small 15, must smaller than the JUC 15. I'm very tempted by it!!