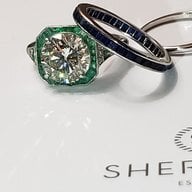 Joined

Mar 7, 2016
Messages

893
Really really didn't need another project but have got all overexcited about a pad sapphire.

I'm going insane with impatience waiting for my emerald cab bracelet to be finished and cannot be without something cooking.

How about this little pad surrounded by pink diamond melee and then a white diamond halo.
That is beautiful I can why you couldn't pass! Is it from the ceylonsapphire folks?