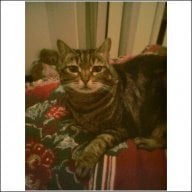 Joined

Jun 9, 2005
Messages

274
Date: 8/31/2007 2:40:23 PM
Author: poshpepper
ulualoha -- your pictures are fabulous, you both look so happy!


And your ''zoo'' (I use the term in the most loving way since that is how I refer to my own pets) is just too adorable. I have birds and kitties too (and dogs!) and I love how you posted pictures of all of them! Your birdies are just too cute for words and your kitties and doggy are too!!!

Thanks for sharing!
Thanks Poshpepper....we were so lucky with our photographer. He was incredible. Very creative...which is my taste though I have nothing against traditional mind you.
As for the zoo (which I call them too

...if not I lovingly call them the critters or our furfamily)...they are great pets. They are very sweet and loving...sometimes mischevious but really great pets! My parrot is talking up a storm right now...she''s so funny! I know she''s trying to get me to play with her...I am so wrapped around her wing! I hope you have a wonderful weekend!
Hugs,
ulualoha