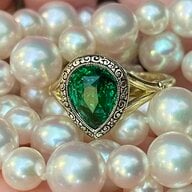 Joined

Mar 2, 2009
Messages

12,797
Just wondering if anywhere out there was at that "stubborn last 5 lb" stage in their health makeover.
I hate the last 5 lb plateau. I know what I need to do to get past the plateau (eat fewer and better calories, and burn more calories, lol), but the last 5 lbs just seem so much harder..arg..
I already hit the gym 5 days a week (30 min cardio, 30 min strength) and log about 15 miles a week jogging. Sigh, guess I still need to up the ante a bit, mostly in the diet area.

Just wondering if anyone else here wanted to commiserate with me over the last, stubborn, 5 lbs!