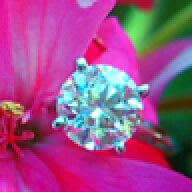 Joined

Jun 28, 2005
Messages

782
I was digging through my jewelry box last night and ran across the rock that I have forgotton about! I got this monster stone from my aunt about 20 years ago. I don''t know what it is, but I swear I remember her saying it was an aquamarine - though she could have only been refering to the color. I really don''t know. She has it in the funky setting and I took it out. I could be glass for all I know. It''s huge and very light clear blue, that''s about all I know.
How can I find out what it is and if it has any value? If it is an aquamarine, can it be recut? It''s like a pear shape now and I enormous!
Ideas? Suggestions?
I took this pics this morning and the lighting in the bedroom is terrible.