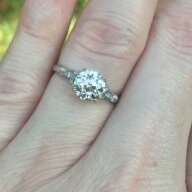 Joined

Mar 12, 2015
Messages

15
Hi PS Community,
First, I want to say a huge thanks to the creators, moderators, trade, and prosumers for all of the time and expertise that you dedicate to make Pricescope the amazing resource that it is. While, I don't comment much, I'm on here daily. I've learned so much from you all and I've had a lot of fun in the process! You guys rarely fail to impress me.
Now, a quick intro...
Last January, my husband told me that he wanted me to pick out an engagement ring for our 22nd anniversary in June. My very first diamond...Yay!!! Thankfully, I stumbled onto Pricescope early on in my search! I thought I knew exactly what I wanted, a Harry Winston style halo with a cushion. Then, I saw so many other beautiful options on PS! I realized that I wanted something more unique, vintage inspired, and I loved old cuts! ❤️
I started working with Erica from Love Affair diamonds in September. After changing stones and settings a few times, I finally decided on a beautifully faceted 1.21 ct AGS I SI1 OEC to be set in LAD+CVB's platinum Acacia. Erica said that my ring should be ready and in my hands this week! I am beyond excited and can't wait to see my ring on my finger!!
So, now onto my question...
Which wedding band will look best with my setting? Pave or shared prong?
My preference is shared prong with the biggest stones that I can pull off. More important to me is getting what will look best with my e-ring. I would love to hear ideas and suggestions! My budget is $3k or so. Finger size is 6. My e-ring is 1.9 mm wide x 1.6 mm tall. I don't mind wearing a spacer and I'm fine with pre-loved.
If you want to cut right to the chase, you can skip the details below and just tell me if you like shared prong or pave best with my e-ring. If you like shared prong, what size stones? Any particular ring or style you want to suggest? I'm open to ideas and I really appreciate any advice you want to offer.
Otherwise, here are my top contenders -
Brian Gavin
- I already ordered the Dream half eternity from
Brian Gavin
(shared prong w/ 11 x .05 melee) in December, but I haven't received it yet. I'm obviously second guessing my choice. It's absolutely gorgeous! I LOVE that I'll be getting super ideal cut stones and that the band sits low on the finger (1.8 mm tall). What I'm questioning is the price and stone size. Since I'm in Texas, almost 10% of my budget went to sales tax. That's money that could go towards diamonds if I went with an out of state vendor. This was at the top of my budget and I feel like I want bigger stones if I max out my budget. I know I'm paying for top quality. I just don't know if I prioritize this level of quality over carat weight.
http://www.briangavindiamonds.com/wedding-and-anniversary-bands/eternity-bands/dream-half-eternity-platinum-5392p
Sasha Primak Royal Crown - I contacted Pearlman's for some price quotes (Bill is amazing btw). Since Pearlman's offers a 20% discount, all of the bands that I inquired about are similarly priced to the
BGD
Dream. The only exception is the .50 ctw 11 stone, which is $800 less than the dream. Stone quality = VS, G+, ideal cut.
11 stone (.50 ctw) -
http://www.sashaprimak.com/pid492
7 stone (.75 ctw) -
http://www.sashaprimak.com/pid605
Full eternity (.05 melee, 1.12 ctw) -
http://www.michaelcfina.com/sasha-primak-bridal-jewelry-platinum-diamond-shared-crown-eternity-JS-WB127-PTQ4.html
Pearlman's Bridal Collection - I can get either a U-prong or trellis style 7 stone band. I absolutely love the trellis band and 1 ctw is very tempting! I'm just not sure if a trellis will look good with my setting or if almost 15 pointer stones will be too big for my 1.21 OEC. I could also go with .50 or .75 ctw for either band. I'm guessing that the u prong will sit lower but I need ask for the measurements.
Trellis -
http://www.pearlmansjewelers.com/jewelry-designers/pearlmans-bridal-jewelry/wedding-bands/207EE1/
U-Prong -
http://www.pearlmansjewelers.com/jewelry-designers/pearlmans-bridal-jewelry/wedding-bands/210EE1/
Leon Mege Pave - I REALLY wanted to get my setting from Leon Mege. I tried to work with him but he proved to be too difficult for me. I'm not bashing him. I'm just extremely meek, so it's hard for me to work with strong personalities. I'm still kicking myself for not growing a backbone and going after what I wanted. Sigh...I can't go back, but a LM wedding band sure make me feel better!

I came across a pre-loved band that I think I would really love. My concern is that it's only 1.6 mm wide and it's 1/4 size too big. I'm not too worried about the size because my e-ring will keep it in place, right? Thoughts on the width? Another option is to order the width I want from Leon's website. Since a band is more straightforward than an e-rings. I don't see me having any issues.
Here is the closest I can find of the pre-loved band (it's .54 ctw I think)
https://leonmege.com/portfolio/shop-now/wedding-bands/thin-fishtail-micro-pave-wedding-band-detail
Blue Nile
Floating Diamond - I just found this band and it's on sale. The measurements are very close to the band of my e-ring. It's 7 stone, 1 ctw, 1.9 mm wide x 1.5 mm tall (vs 1.9 mm x 1.6 mm e-ring). It reminds me a lot of the Sasha Primak Bands except it's a floating diamond design. I really love the look of this band. Plus, it's more carat weight for less money. My concern is the quality of the diamonds and craftsmanship. Are my concerns valid? What cut quality does
Blue Nile
use?
http://www.bluenile.com/diamond-ring-platinum_9717?elem=img&track=product
Ok - so those are of the pieces that I'm considering. I do wonder if I should get something vintage or vintage inspired. Maybe something with milgrain? Or, maybe a band with alternating marquise and round shaped? Maybe a band from Singlestone? A few are in my budget and a Singlestone band would be amazing with my e-ring! I have also thought about looking for a pre-loved Tiffany shared prong. I found a couple on eBay, but I'm a little nervous buying from ebay. I also worry about the stone quality. I definitely want super sparkly ideal cut stones.
If pave is the way to go, I need vendor suggestions or specific bands to look at because I don't know much about shopping for pave. I think I would rather spend under $1500 for a pave band so that I could get a shared prong or trellis band to wear as a RHR is a year or so. However, I flip-flop on this too. A big part of me wants to take advantage of my full budget and get the best wedding band possible. Ugh, I hate being soooo indecisive!

Thanks for taking the time to read my long post. I'm terrible at being concise and I apologize for that. I do immensely appreciate your time and any help or advice you can offer. I'm seriously struggling with this decision. I'm ready to be done with the shopping/decision making and soooo ready to start wearing and enjoying my rings!
Thanks again for everything!
Shannon
List of attachments.
1 - My diamond (also here's a link w/ videos and more pics -
https://loveaffairdiamonds.smugmug.com/Vintage-Rings/1j21ct-Old-European-Cut-Diamond-/i-r9jqnjM
).
2, and 3 - CADs of my e-ring
4 - finished example of my e-ring (but with a much larger diamond)