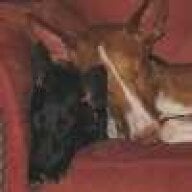 Joined

Dec 8, 2005
Messages

1,862
Okay...So I haven''t posted often on this forum...mainly because I am entirely missing the bridal gene...but I wanted to see what you ladies think of this...

By way of background - FI and I have been together for 5+ years, bought a house together nearly 3 years ago. Getting married *kind of* seems like a formality for us. We are a pretty laid back couple.

We were talking about doing a small destination wedding...but for various reasons, that didn''t seem like it was going to work.

As I said before, I am totally missing the planning a wedding gene - so a big formal wedding was totally out of the question.
It doesn''t appeal to me at all. I also can''t really justify spending the $$ on it - we are paying for our wedding because my parents have us $$$ for a down payment on a house...

So I''m sitting at lunch today with one my girl friends, and I said, you know, I really want to get married...maybe we should just do it in my backyard. And she said why not? And it got me to thinking...and planning.

Here is my wedding idea.

Labor day weekend. Either Saturday or Sunday - having a backyard wedding bbq! I have several wonderful friends - one has offered her HUGE yard and faboo house for the bbq. Another agreed to cook (and she is the best soul food cook I know). Just totally casual and fun. Basically, a party with our close friends and close family where we get married. I''m thinking I''ll wear a white or ivory strapless sundress. FI can wear linen pants and a shirt. Guests can wear whatever they want!

What do you guys think?