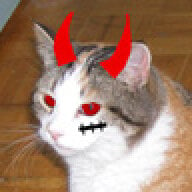 Joined

Nov 19, 2004
Messages

3,430
Kama_s,

I have talked about pushing the wedding back to next. I''ve talked about it to EVERYONE:
FMIL:
We need to have something happen to look forward too.
FSIL:
You had better not think of cancelling the wedding. It wil give us a chance to get the whole famlly together and remember FIL
FBIL:
Before FIL passsed away, he said he would be there in spirit, he would not want you to cancel it.
Mother:
The contract for the venue says 4000$ loss if postpone. And I already told my friends. It would be such an embarrassment!
Grandmother:
What are we going to tell all of our relatives because you don''t have a residency? We need to make up something.
Fiance
: I promised my Dad as he was DYING that we would still get married THIS YEAR.
Lots, lots, lots of pressure from everyone to do this. I feel like my wedding is going to be a wake for FIL. We''re all going to cry for FIL. And then we''re going to light candles for FIL; we''ll talk about all the good times with FIL. We''re going to make speeches about FIL. Somewhere between that, I''ll probably be crying for my grandfather too. And for lack of residency. From that description, most people would say "That''s what a wake is".
I''m actually not exaggerating. MIL and SIL have planned a lot of stuff for ceremony/details, and there''s actually stuff done in that area. They got a candle with FIL''s picture (to be lit), a picture of FIL to be set up next to guest book. I read the best man speech (it''s all about how much FIL would have loved to be there, his hopes for our relationship, how implicated we were in the death) I think they mention our relationship and best wishes in the last two lines. I guess it''s expected because FBIL is the best man. They''ve discussed how all of the family should wear pale blue ribbons on lapel for FIL. And they would like the readings to reflect more of eternal-life, eternal-family vibe. I don''t know what the options for readings are yet, so we''ll see.
I get depressed just writing it. And let''s face it, my life is circling around the drain, so I don''t WANT to deal with any of this. Yesturday my Fiance came home with a list of things he wanted me to have done today. He''s making WEDDING LISTS for me. He keeps telling me that nothing is getting done, and that I''m being disrespectful. I screamed at him. Not yelled, but screamed, that if he was so set on doing this, he should do it himself. Especially since he subsequently spent the rest of the night playing playstation

. Oh and then FBIL and him discussed how I was being mean because I must be PMSing, and stressed about the wedding. He does this on the phone. While I''m in the room.