Yay! I just got engaged this week and boy am I happy
It's the setting that I fell in love with (Diana) and I love it! My fiance told me that the center diamond was GIA certified 1.0 carat princess cut diamond with S1 clarity and color of H. I went to the jeweler's today to see about getting it resized about maybe half a size down. It's not that big that I think it would fall off, but I guess b/c of the weight it tends to spin even though it has a euro shank. Anyway, the jeweler advised me not to get it resized because of the way it's shaped and instead to put small beads of gold on the inside. I don't want to do this because it would cover up the stamping of the 18k and Diana stamp inside the ring. What other alternatives would you suggest I do? I bought these plastic 'ring snuggies' that go inside of the ring, but they look awful and are not comfotable to me. Are there metal resizers that could attach to it without damaging the ring?
Also, about the diamond. I went to see if I could get the GIA certificate because all he received was an aprasial for the ring, and I found out that the diamond is not GIA certified, but what the jeweler told me that a GIA certificate is really personal preference and I believe that all the diamonds this particular store carries are very good quailty anyway. So, in your opinions, should I get it certified ($500 for GIA I was quoted around) and I'm not very much into status and showing off that I have a certified diamond...soooo I love it I think it's a beautiful diamond-what advantage would a cerfication bring me? All I know is the cut color and clarity - the jeweler assured me that for this 1.0 karat diamond s1 clarity and h color that with a certification would cost double and I would like to know if he got a good price for it. He paid $3200 for the diamond non certified. I know it shouldn't matter...but I'm just curious.
As far as ring insurance goes...it was apraised for $9800. I was recommended to get insurance on it which she said would only be like $2.00 a year I still have to look into it. Would you suggest getting it insured?
One more question! What kind of wedding ring would you suggest to go along with this type of rings given where the side diamonds are located? There is a matching wedding ring, but I would like a separate different kind of wedding ring.
Any other advice would be appreciated! I have also attached pictures of my ring
thanks!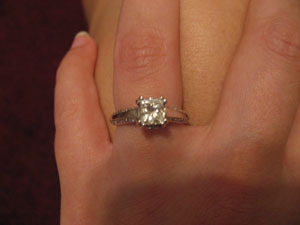 ~Cristaal