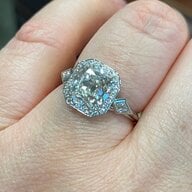 Joined

May 27, 2013
Messages

696
Hi PSers. I transitioned into a lurker these past few years as other projects popped up in my life (travel, kitchen/bath reno, COVID/WFH) but now I have something new to share... My ER was upgraded in 2015 from a 2.23ct MRB G SI1 (clean to the eye) to a 3.15ct OMC I VVS2. I tapped out the budget on the upgrade, plus I had no idea what type of setting I wanted, so it was set in a solitaire. The OMC was from Leon Mege. Two years ago, I finally envisioned a radiant/Asscher shape "frame" or halo to sit around the OMC, kite shape accented sides, and a tri-wire band. The problem....I searched a lot of vendors and no one had that exact one already in stock, so that meant getting my idea down on paper and sending it out to see who could nicely fit a cushion into a square hole. My lazy butt sat on the idea for another 18 months but I still scanned the internet for a ready-made setting.
In Texas, this past February, we had the ice storm of the century. Since I could not work for a week, I had downtime and drew out this image that I could not aptly describe. I had fallen in love with the platinum blend that LM uses (for the six years I wore his solitiare, it stayed bright and well polished) and I love his sharp double-prongs - so I contacted him first. I still failed at describing my thoughts on the phone with Leon but then once he saw my drawing, he knew what I wanted and said he could do it. Off went my ER to NYC for two months... And then it arrived. Introducing my ER's "new dress..."
I hope you enjoy !
OMC in the original solitaire setting (Leon Mege)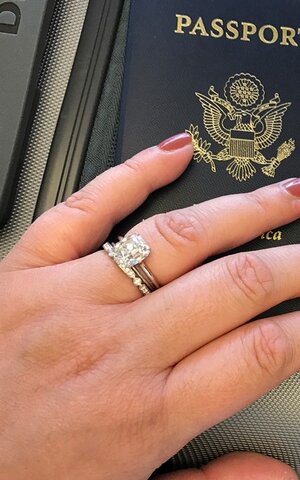 Inspiration rings - Asscher shape, kite accents, tri-wire band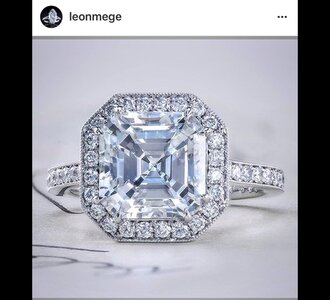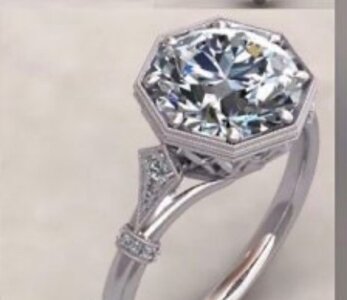 My sketch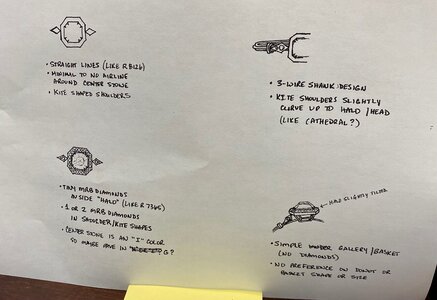 Leon Mege's fancy photo/video link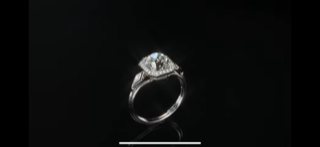 On my hand, finally!