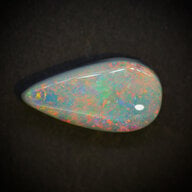 Joined

Dec 6, 2014
Messages

2,077
First of all I would like to preface this thread by stating a couple of things; first, I am not a vendor and nothing I post is for sale as they're personal items. There's a whole vendors list with wares that are many times nicer than anything I will produce. Second, this thread is for educational/entertainment purposes and has been given the green light by Ella. It's about the hobbyist's learning curve with cutting stones and all the little beginners tips for a hobbyist that only a beginner would really think to relay. Each post that I make in this thread here at the start will essentially be about some kind of topic/event on the learning curve so far until I basically have posted up to where I am now, from there it will be update posts on what I have been learning. There may be a picture or two as well
OK, let's start at the very beginning...
Around October 2014 I was working a job that was very frustrating and had a lot of down time, I hated being at the office so I was doing whatever I could with limited internet access to take my mind away and make the day go faster. I can't remember what stones interested me at first but I remember reading the history of Kashmir Sapphires and how they were found in the 1880s; I was absolutely fascinated by the story and when I saw photos and videos of the gems I was blown away by how amazing they look. Not long after this an obsession began with colored stones and I found the wonderful world of Pricescope.
Realizing that I wanted to learn how to cut stones wasn't an instant thing for me either as I had been perusing the PS forums for about 8 months or so before I had the epiphany. It happened when I crossed paths on here with aussiejamie - a fellow Aussie boy with a gem obsession who has recently become a trade member. Between the questions he was answering for me and the pics that he was sending me of his work I discovered that it was entirely possible for me to learn how to do it as a hobbyist – even if the quality of my work is not anywhere near acceptable for B&M stores let alone the PS collective.
I really must thank him as well actually; while we have not met face to face and he hasn't actually showed me how to cut stones, he has been extremely helpful with guiding me as a hobbyist and was the person who set me on my path of learning by simply telling me that I could learn how to cut gemstones at a lapidary club. He's still guiding me with little questions that I have.
Oh and Gene from PrecisionGem has given me topaz advice and has offered to answer my questions as well and I greatly appreciate that offer and will be taking him up on it (I just haven't had a chance to ask him anything as I have been very busy lately).
So to Gene and especially Jamie, I say thank you!