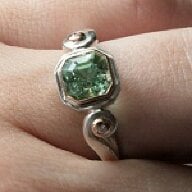 Joined

Apr 16, 2009
Messages

515
AmeliaG|1313280561|2990313 said:

lavatea|1313274820|2990280 said:

AmeliaG|1313268147|2990219 said:

Ahhh, very nice!

May i ask whose idea the swirly designs on either side were? Did you specifically request them or did Julia have another piece already made with them?

Julia came up with that concept. It was one of a couple of sketches she drew up for me. I'm so glad I went with it, even though it wasn't what I had originally intended.

Very nice! I'm waiting on an Asscher from Jeff White now that I'd like to set. I'd like to choose a slightly different design on the side to make it unique but haven't any ideas. It's good to know that Julia can provide you with ideas and designs.

May I ask what your turnaround time with the project was from start to finish

?
My turnaround time was a little over a year, but that was entirely my fault (money troubles at every turn it seemed). I'm not sure what an average with JKT would be as this is my first piece.