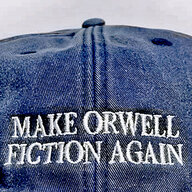 Joined

Apr 30, 2005
Messages

28,983
I want to believe this.
But there is so much in this world that we know about and don't understand.
True, lots of stuff we do not know.
That is why when asked, "What about X?" the only correct answer is, "I don't know, nobody does".
Making up so-called "answers" is arrogant, dishonest, and absurd - especially feeding such lies to your kids.
Doing so is teaching your kids to turn their brains off and accept stuff there is no proof for - a slippery slope.
Just tell Sussie and Jonnie, "I don't know."
Last edited: