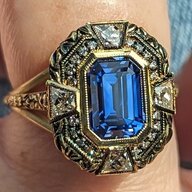 Joined

Jan 26, 2018
Messages

291
I am so excited to finally get to post this! Last October, my husband created a Pricescope account to surprise me with a sapphire for my birthday. Thanks to this amazing community,
@HopeJon
floored me with an absolutely FABULOUS Jeff White stone. Here is his original thread:
Well my wife is always on this site. She's the "expert", and I know nothing. Now I'm sneaking in requesting a little help, and a little short on time. I thought I could do some research and learn what I needed to make an informed and wise decision, but it's much harder than I anticipated. Here...
I couldn't believe it. I was so floored that he would do something like this for me. I received it only weeks after my mom passed away. And there was just SO. MUCH. EMOTION. I am still so emotional about opening that present.
He told me to do whatever I wanted with it. (I'll bet he doesn't say that again! Haha!) Almost immediately, I knew that I wanted to work with Caysie and create something really special. I wanted a ring so I could see my beautiful sapphire, and I scoured Caysie's Instagram and Pricescope threads for inspiration.
I wanted it ALL! I ADORED
@diamondseeker2006
's CVB sapphire ring with the triple diamond shank. But I was also drawn to yellow gold for this stone (which is crazy, since I don't own anything yellow gold, really.) And I loved the Spring Gulch with the engraved outer halo. But I also loved Caysie's Serena with French Cuts at the compass points. Could Caysie actually merge all of these things in my head into one FANTABULOUS ring???
Why, YES! She COULD! And she DID! Y'all, my sapphire positively GLOWS in this setting. It does not take a bad photo! And the French Cuts are just AMAZING! I love everything about it and wouldn't change ANYTHING!
Oh my. It did take a while to get here, which was just fine by me, because I savored the whole experience. Thank you to Caysie and Jeff and my husband, who is the love and light of my life and my best friend. I am so blessed!
Here it is:
2.85ct Untreated Sri Lanka Jeff White Blue Sapphire in 18K Antiqued Yellow Gold Modified Spring Gulch setting by CvB in a soft brush finish.