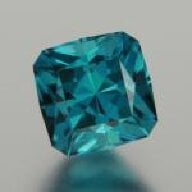 Joined

Jan 18, 2008
Messages

9,758
Earlier this year marked the 5 year anniversary of my relationship, plus I also landed my ideal job.
So to mark both these occasions, I started looking for a special gem to create a custom ring.
I had never considered myself a "sapphire person" before, just didn't really see the appeal. But that was before I saw the awesome ones sourced and cut by Jeff White (
http://www.whitesgems.com/
) and owned by fellow PSers. But I had also just kinda assumed I couldn't afford Jeff's work in the past..
After speaking to a couple other cutters who didn't have the suitable material, I went ahead and contacted Jeff.
I was inspired by the colour of TropicMaster's (
thread
) beautiful sapphire - I asked Jeff for an elongated cushion cut in this colour, at least 7 - 7.5mm, and preferably with a violet tinge.
Fortunately for me, he had something that matched my requests perfectly and he came back with an ideal match re-cut candidate within days. Other CS'ers will tell you how rare this is, to find a sapphire that fits all your desires perfectly. In that regards it is not at all like ordering a diamond, and many people wait months or even years for just the right sapphire to come along.
So I felt very fortunate and decided this stone must be "the one". Also, to my pleasant surprise, Jeff's quote came in under budget.

So, after a number of weeks on the edge of my seat, my Jeff White "blue beauty" was finally complete, and I couldn't be happier with the result.
The specs are:
2.02ct, heated Sri Lankan sapphire, flawless, measures 6.4 x 7.3mm. It is a slight colour shifter, with the colour an incredible bright rich brilliant blue, which turns a more violet silky deep blue in some lights.
I can't possibly say enough nice things about Jeff. He is a real master of his craft. Plus is also fun and easygoing to speak with and is a true gentleman. I can't recommend his services highly enough.
This stone is undoubtedly my favourite coloured gem, and I cannot wait to work with him again.
Here are some photos to show the before and after results of the re-cut – I found it quite incredible how little weight and even less mm that Jeff could cut off to achieve such an amazing change in appearance: