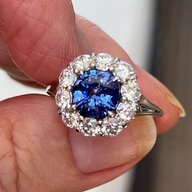 Joined

Aug 18, 2013
Messages

9,158
Love this new ring, which arrived today! The rubellite (which was around 3.9ct as I recall, tho I don't remember exactly - my apologies), is 8 x 10mm and cut by the inimitable Jeff White. The diamonds are .88ctw, 2.5mm, some ACAs from
WF
and the rest sourced to match by DKJ. The basket is made to resemble holly leaves, and the shank is 18kt, the head is platinum, while the claws on the rubellite are, once again, 18kt.
And I've learnt that red is horrifically difficult to capture in photos! This ring glows a strong, deep, blood red. But every photo - one stubbornly after the other- shows pink / purple / crimson. Not much I can do about it except assure you that - in real life - it flashes equally between pink and red, with brief hints of orange and purple.
It was made to fit exactly with my round profile wedding ring, and I absolutely love it! Many thanks to Jeff White and to David Klass Jewelry - and to all the PSers who came and gave opinions and advice re metal selection - you guys are always incredibly helpful and I appreciate it!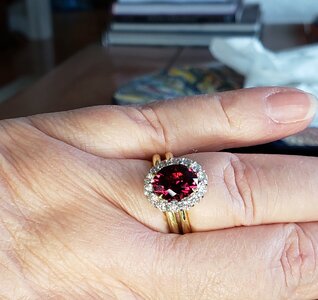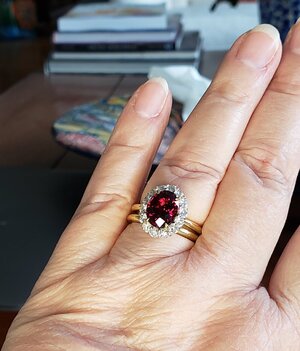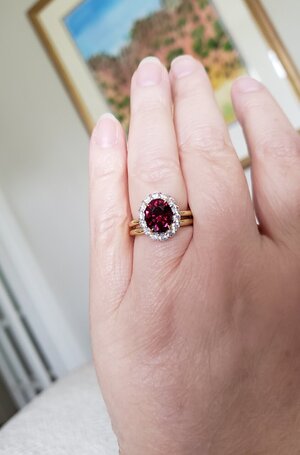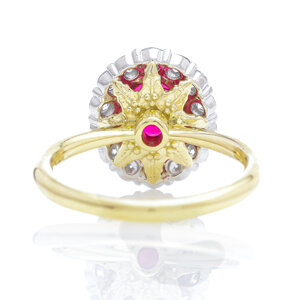 Last edited: