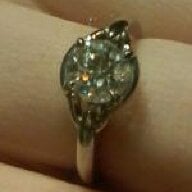 Joined

Aug 31, 2009
Messages

1,199
I've somehow now managed to lose this post twice, so short and sweet (even though I have plenty of hurricane time):
I got engaged in June with my fiance's great-great aunt's OEC. We took it out of it's original setting, because it was incredibly delicate and my fiance was convinced I'd break it in a minute. We worked with Jbeg to create a custom setting that was more modern and took my love of bezels (but inability to wear them well) into consideration. And I love it. I can't get over how sparkly the OEC is, as someone whose mom didn't have an ering and who doesn't own any other diamonds (I'm a CS girl). My colleagues catch me all the time playing with the colors is throws off!
Specs:
1.05 ct, J color, SI2 (apparently borderline SI1, but clean enough for government business, as far as I'm concerned)
6.49 mm, slight blue fluor (I love the fluor!), poor symmetry, fair polish.
Working with JbEG was fantastic and I would do it again in a heartbeat. I really adore Erica, she was wonderful and sweet to work with - and put up with all my anxiety about this being perfect. The ring does have slight porosity on one of the shoulders, which you can see in one of the flower pics, but you can't see it IRL and the appraiser said it isn't a concern. I never would have noticed if not for his appraisal.
And now, pics! If anyone can suggest a wb, I'd love to hear it. I may get the shoulders lowered slightly, as they stand out from my fingers further than I'd like but I don't want to part with it long enough to do so!