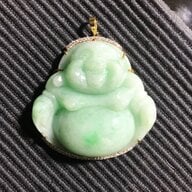 Joined

Apr 4, 2020
Messages

167
Type A Jadeite, Type B Jadeite, Type C Jadeite, Enhancement, Treatment, Bleaching, Polymers, Wax, Dyes these are all common topics we come across when we start to collect Jadeite. They are contentious topics and indeed only a reputable Lab with it's use of sophisticated techninques such as DiamondView imaging, microscopy, spectroscopy, and Raman spectrophotometry can ultimately determine whether something is indeed Type A material.
However there are those instances in the market where one is forced to rely on his or her honed skills in order to determine the likeliness whether a Jadeite is indeed treated or enhanced. This observations are backed by GIA and Journal of Gemology studies.
Unfortunately not all countries have been graced by reputable Labs such as the GIA as such in my country. Therefor one is left to do the following: buy something which has already been tested abroad or to gamble and trust one's skill then send it abroad for testing. As a disclaimer I never substitute my obeservations for that of a Lab Report. But Lab Reports, unscrupulous ones where Labs can't be traced need to be challenged by what one knows to observe.
Let's do a side by side comparison of what to look for in Type A Jadeite and Type B, C, B + C, Coated Jadeite. Unfortunately I do not have photos to share I do not have sophisticated cameras to capture my observations. And the photos in the internet are copyrighted. One can however google what is stated below. And I will provide links to the GIA and Journal of Gemology.
Type A Jadeite:
1. Long Wave UV Light Test- inert or does not Fluoresce.
2. Cold to the touch.
3. Vitreous surface luster.
4. Under the Loupe- Orange Peel appearance or dimpling.
5. Under the Loupe- Crystal graining can be seen. Or appearance of broken ice.
6. Inclusions- Black oxide minerals, chromite, magnetite, iron spinel and pyrite. Common in Bright green, lavender and grey Jadeite.
7. Weathering Shells- intense color gradations and clear boundaries between oxide zone and interior Jadeite.
8. Inclusions- Ice Dizi, Granular Ice.
9. Fissures- White or whiter than body color.
10. Fissures- Color Block, disappearance of color at the fissure.
Type B, C, B + C, Coated Jadeite
1. Long Wave UV Test- Fluorescent
2. Warm to the touch as polymers are poor thermal conductors.
3. Looks like plastic.
4. Colors appear to float or appear out of nowhere.
5. Color fades with time.
6. Duller because polymer is less reflective.
7. Under the Loupe- Cobweb or Spiderweb surface appearance- produced by Bleaching.
8. Under the Loupe- Surface scratching
9. Under the Loupe- Surface corrosion of polymer.
10. Under the Loupe- Bubbles or lint trapped in polymer material.
11. Color collects in veins, cracks, fractures, fissures or microscopic gaps between crystal grains.
12. Filling material is visibly in large fractures.
13. Crystal graining is hard to see because of polymer.
14. Presence of "White Cotton" because of polymer.
15. Fissures are less apparent because of polymer.
Still there are skills and observations I am yet to learn such as assessing Internal behavior of light and I am yet to listen to the sound that Jadeite Bangle makes when struck.
Some light reading:
Spectroscopy and microscopic observation reveal that areas of a natural green jadeite carving have been dyed.
www.gia.edu
A bangle is an example of the misconception that B jade is only impregnated by resin, when in fact wax-impregnated jadeite is also considered B-jade.
www.gia.edu
Analyzes the effects of coating on green jadeite specimens using DiamondView imaging, microscopy, spectroscopy, and Raman spectrophotometry.
www.gia.edu
Further Reading with illustrations:
Detailed information on treatments applied to Jade Bangle Bracelets. Treated Jade Bangles are common in the market place today and are there to deceive consumers.
www.mays.com.au
» How to Identify Treated Jadeite ('B' Jade) | Jadeite jade bangles, jadeite jade pendant, jadeite jade bead bracelets for all jade lovers with life time money back guarantee
www.ultimatejadeite.com
*Fun fact it was Dowager Empress Cixi of China who was said to have trained her fingers to recognize Jadeite.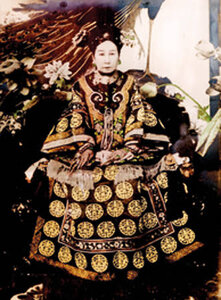 Last edited: