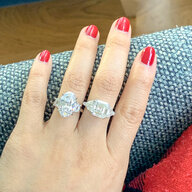 Joined

Aug 6, 2018
Messages

125
Dear all,
Since I acquired this lovely three stone ring featuring a 3.62ct J squared emerald center stone (8.89x8.83x5.52 -- bigger than a lot of 4ct asscher out there) and two 0.5ct F/G color trillions, I have decided to make some videos of this ring in different lighting environments. I have literally read every posts possible on this "Is J color too yellow" topic and cut quality of an asscher/sq. emerald, and decided to share my 2 cents.
For your knowledge, the center stone is J while the side stones are G. For comparison, the halo diamonds are E for my other sapphire ring here.
I buy myself rings that I like. I can definitely say this ring, while not white enough for me, will make me a happily engaged woman one day yet to come. I admire all the men on this forum, trying to be educated so to make their ladies happy. However, mine has other talents that make me a lucky girl -- besides, I really don't want him to be ripped off in anyway.
While I'd love for a D VVS+ asscher ring, I know I'll never be able to afford it (or I should say that I'd rather buy a nice house or go to places with that money). My family also collects some jewelry, and I know someday, I will have the chance to wear some top-notch rings of auction quality.
Enough background. I'd like to share with you these images and videos because I found there is not enough good visuals on the J color out there. My conclusion is very simple that anything below a F, in my eyes, tend to have some tint especially when put next to a E. While there is definitely still difference between a G and J, the cut quality and lighting can really trick out eyes. A D and a E will be the icy white color even in intense light. I choose the spread and the fire for this purchase.
My asscher here, on the paper, probably won't fit your definition of excellence at all. It is VG in Polish and only G in Symmetry, and it has a tiny cutlet. Yet, some seasoned appraisals worked with Harry Winston told me that this diamond cannot be cut better based on his experience after appraised millions of stone. A little different from all the sq. emerald and asscher out there, it has a 67% table and only a 62.5% depth (very hard to find an asscher so shallow). However, the visual does not lie, and I have been "blinded" so many times while trying to take these pictures and video.
I made this post hope to help any future purchaser and your diamond enthusiasts out there. Just want to contribute a little extra sparkles to this very shining knowledge base!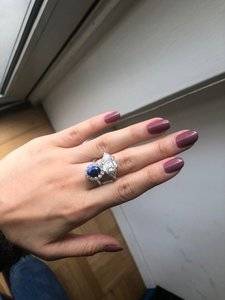 (day light)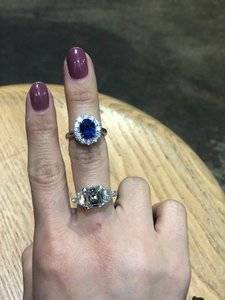 (white intense store light)
Here are the videos (UTube thought I am trying to artificially increase my visits by uploading the same video...LOL). The only one I am missing is the ring under the Sakes 5th Avenue...It was the most eye-blinding performance I saw but it was a litter weird to stand in the middle of the floor taking pictures of my ring...LOL2)
1. Day light:
2. Sun light:
3. Office LED diffused light:
4. Intense white store light:
5. Intense warm store light:
Enjoy! Thanks. Happy holidays to you all!