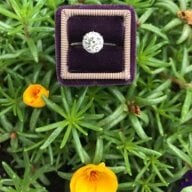 Joined

May 25, 2016
Messages

308
Has anyone else completely overwhelmed themselves searching for the one? (I'm sure I know the answer here!)
So far, I've found the following cool things online:
-my cat
-my clothing
-some best friends
-my man
Why can't I locate my ring?
I think my guy is waiting for an inkling from me because I've made it clear I am pretty darn picky about this ring business.
We did go try on rings at a local chain a couple of weeks ago. I didn't love the selection and now I feel even more worried I won't find my dream sparkler.
Maybe if I list out what I am searching for - someone may have a suggestion? I am planning to check out more jewelry stores but I feel like there is more selection online. I've looked on Google,
JamesAllen
,
Blue Nile
, TrumpetandHorn, Costco, ShaneCo, etc.
Must haves:
round diamond
platinum
low profile (bezel? something flat? bezel halo? something I don't know the term for?)
Considering:
1. New or antique
2. Just wearing one all encompassing ring instead of an engagement ring + wedding band.
In my mind, this could be a band that tapers in the back (for comfort), a cluster with a larger center stone, maybe some kind of multi-stone? Very much prefer it to be flat across the hand. Not high profile.
3. Wearing a more traditional combo (example: bezel set halo + eternity band).
I am open to any decent quality stones that are "eye clean" <--- saw that used earlier here, lol.
Budget: $15k (USD) max
If I do get closer to the max budget, I would prefer something with a center stone around 1.5 carats.
If anyone is bored and feels like posting suggestions - hey, I'd like that!
(I hope this post isn't against the rules. I checked out the FAQ/etc and I think it is allowed.)