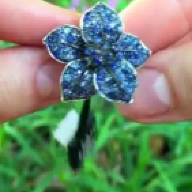 Joined

Nov 14, 2015
Messages

1,148
So to recap I've been looking for a black opal to set with my pallasite peridot. I was planning/hoping to look quietly for a good few months and purchase at least mid if not at the end of this year.
Well.....We're still in Jan and I've just brought my opal




(the range of emotions I'm feeling)
I saw it. I loved it. I needed it. The rest is history. Ish.
I havnt received it yet and I'm fully prepared to send it back if it disapoints.
Here it is!

Photo in shade of daylight