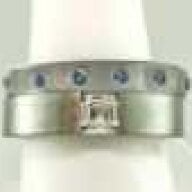 Joined

Mar 27, 2004
Messages

87
Hi Folks,
I have hung around here since Feb 2003, when I started my search for general info/research on diamonds. At the same time I came here I went to another consumer site, not (then) knowing the differences between them. I now know this site to be far and away the superior site, considering the involvement of Pro and non-pro, especially the
friendlier
environment.
I started by looking at B/M stores where I live in So Cal, some extremely rude and haughty, some friendly, many overpriced, but none having the true detailed knowledge that I found (over time) here at PScope, and definitely a meager inventory. So then, I migrated my search online and quickly found
Blue Nile
and almost pulled the trigger on a stone there, but one more Google search brought me here, Yea! Saved!
After a glowing review of service and selection at
WhiteFlash
from a PriceScoper, I went to them for help. I eventually bought a square cut emerald, D-VVS2, fab stats, and great price, from
WhiteFlash
. I actually was fine with going as far as an F (I found by looking at many stones in the LA diamond district that I was color sensitive, and G was not white enough for my eyes), but this stone popped up and was similarly priced as the F's. (This point was one that got me verbally trounced by a vendor on the
other site
, yuchh - bad taste in my mouth !)
Ok, enough about the old stuff, onto the new:
So, I am obsessive/Compulsive and as the ring is for me, I continued on to the ring design, I will not bore you (too late, I know...) with those details, but I chose Bruce Boone for a simple ring, but....... along the years here, I found out about colored diamonds, dangerous for me, since I am intrigued by the rare. I fould a set of 6 Fancy Blue melee (natural, TCW .27), that
WhiteFlash
will be setting into a Platinum Wedding band for me. In fact, the Boone ring is on it's way to TX right now, so they can get similar style details from his ring into theirs.
I chose to have 2 rings, because I work with my hands, and may not always wear the Asscher ring, and then I'll have the option to wear both, one, or the other.
My guy and I have been together 14 years this month, but he proposed years ago when same-sex marriage seemed imminent, maybe New Jersey will come through this year. Bruce Boone will also make my guy's Wedding ring, which will be Titanium, inlayed with Platinum, coordinating with my two rings in the different metals.
But my main point with this long post, (sorry, I should have posted a warning) is
Thank You
to all here, I have learned much over the last years. I am sure that my patience in finalizing design(s) will more than pay off due to the input from PriceScopers!
Thanks all,