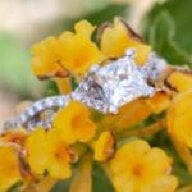 Joined

Mar 25, 2011
Messages

247
Hello all!
I have a little extra money coming my way in a few weeks (yay for 3-paycheck months!) and am hunting for my first pair of diamond earrings on a ~$400 budget.
My first thought was to go for a pair of
BGD
huggies (
http://www.briangavindiamonds.com/home/ring-details/?product_id=5413
), but I could also manage a pair of ~0.35 ctw studs for a similar price (also from
BGD
). Does anyone have any input or recommendations? I'm not looking for anything over-the-top flashy (I'm a graduate student, for goodness' sake

), but I do want the most sparkle for my dollar as well as something that I'll want to wear every day.
Thanks in advance!