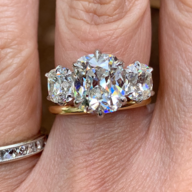 Joined

Jul 27, 2005
Messages

4,165
After I got my stone re-set from my old solitaire setting into my current 3-stone Leon, I wore it almost daily for 9 months before finally having it appraised for insurance purposes last week. (I know, stupid me) So, I never examined it with a loupe or anything and just assumed the stone was as perfect as it was when I sent it out to be set. My appraiser told me last week that under 10x loupe mag, he was able to see a teeny tiny chip in the diamond in between one of my double claw prongs. He said it was impossible to tell whether it happened during the setting process or as a result of normal wear over 9 months. He said if he HAD to guess, he'd think it was done during setting because of the location, but that would be impossible to confirm now after I've worn it for so long.

He said the chip could be polished out with almost no loss in weight, it was THAT small. I had a hard time finding it with the loupe in his office. So, I bought a loupe and tried to find it at home. At certain angles and if I look really hard, I can sort of make out a miniscule, very shallow chip on one of the crown facets. It's right smack dab in between 2 claw prongs. It bothers me AND it doesn't bother me....you know, the whole mind-clean thing.

What would you do? Would you have the stone taken out and re-polished? Would you just leave it? Would insurance cover the stone re-polish, even though it's been sitting in a new setting that they never knew about? How much does it cost to re-polish a stone anyway? I wouldn't feel right submitting a claim against Leon since I never had the stone inspected after it was set, so I could've easily been the one at fault. Would love to hear everyone's advice, but particularly from pro appraisers or those who've had a chipped diamond re-polished. THANKS!!!