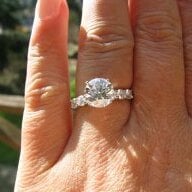 Joined

Oct 19, 2006
Messages

1,394
Well, my turn finally came this afternoon
I really did not want anything extravagent - all I wanted was for my bf to speak to me from the heart when he asked me to be his wife, and that's exactly what he did. He called me right before he came over to my house and told me to stay on the phone but go into the kitchen. I stayed on the phone with him while he went back to the bedroom. He asked me to come back to my room and take a seat on the bed. He was a lot more dressed up than usual. He stood in front of me and basically told our story, from the first online "wink" to our emails, the night we met, our first date etc. He talked about everything!!! He spoke about the day he realized that I was "the one". He pulled out a dozen long stem roses that were hidden in the bathroom. Then started talking about the future and that's when he got down on one knee and asked me to be his wife!
Although I knew the proposal was imminent, I was kinda surprised and will admit that when I realized "this is it!" I started trembling and bawled like a baby!!!
I am relieved the wait is over! We are set to be married in March on the beach in Kauai!
In addition, he has something else up his sleeve for Christmas morning. He told me there is a part two, which involves my kids, so I can't wait to wake up tomorrow morning!
Merry Christmas!