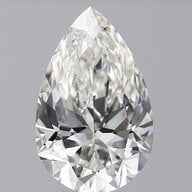 Joined

Feb 8, 2003
Messages

5,565
Just a tease.
I spent a lovely few hours yesterday afternoon with my good friends at I.D. Jewelry in their new digs. I have to get used to the "no window" aspect of their new place, but I do think it's much safer for them there. What I ordered was simple, but for me, having lived on a tight budget because of medical and dental expenses incurred because of my illness, I felt like a very lucky lady. I am in remission after five unbelievable years, and just as unbelievable, after praying hard for 20 yrs. for just one break for us, we've been blessed with a once in a lifetime/can't say no job opportunity job for DH. Things are looking up for us and I felt I had a reason to celebrate.
I've already picked up my custom made Tanzanite earrings, but I'm not going to post pics of them yet because Yekutiel is finally going to set my beautiful cushion cut Tanzanite (from Gene) in a pendant mounting. It will have a big, sparkling halo of five pointers and it's going to look spectacular! I can't wait to see that done and in it's permanent home.
Lastly, because I seem to be "hanging in" as they say, medically, and to celebrate N's new job, we renewed our wedding vows in thanksgiving for the second time. To commemorate that occasion, I decided to buy my final anniversary band. I have a fantastic five stone from
WF
, a beautiful seven stone from Fortchy's, a sweet little nine stone from Yekutiel and now I will have the only thing I'm missing- a U-prong 2/3 around the finger eternity. I looked at the ten pointers and it's was sweet. I do love tens, they're a Goldilocks sized diamond. I looked at the fifteens and it looked better and indeed made me smile. I looked and tried on a U-prong made of twenties and heard the ding-ding-ding-ding go off in the head! We had a winner! So in one month's time, gemgirl/BigMomma will have a two carat U-prong with a smooth transition on each side (no final prongs) and a thick comfort fit shank. Of course F/G SI1 Pricescope and beyond quality diamonds.

OK, reallllly last thing, I always get to see pieces of fellow Pricescopers' that are either being done or have just been completed and this time the prize for "most memorable" goes to................. PB for her nearly 4 ct. pristine, elegant, oh-I-so-want-one K VVS2 emerald cut solitaire. All I will say, not to ruin anyone else's thunder in any way is - honey, you did good! Spectacular!!!