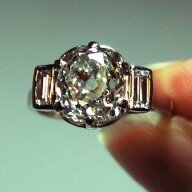 Joined

Mar 18, 2009
Messages

23
Hello Ladies!
I am in the UK and new to this forum, although I have been inspired for months by your incredible sparklies!
I would like to contribute to the "old cut ****" by showing you my baby, inherited from my Italian grandmother. It is an old cushion cut/miner cut dating from the 1930''s, but I think the stone might have been cut earier than that, since I know my great grandfather was a jeweller.
Right, specs...it is 2.51Cts and D/E colour. There is a feather inclusion on one side that doesn''t show in the pictures, but is visible when you look at the ring under white light. The two baguettes are extra white too, but I dunno the specs because they haven''t been taken out of the setting like the other one has. I will post more pictures of the side with details of the tall crown and the curls on the basket, and one on my hand.
I hope you enjoy it as much as I do when I wear it at work!Unfortunately due to its value I can''t fins anyone to insure it with in the UK. They ask a fortune!!!! Any advice on that side would be super!
Lilo